Lift the Flap Engineering
Write a Review
Engineering helps shape the world around us, from the houses and cities we live in, to the way we travel, and even the sound of the music we listen to. Lift the flaps in this fascinating book to discover how engineering works and the many things engineers do. Includes internet links to find out more. Published for the 2018 Year of Engineering.
Lift the Flap Engineering Reviews | Toppsta
9781474943659
Rose Hall
https://toppsta.com/authors/profile/rose-hall
Additional Resources
Videos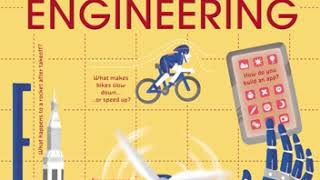 If you like this try
Book Lists
First Line
"Engineering is not just about engines. Engineering means designing, testing and making all kinds of useful things. To do this, engineers use mathematics, science and - above all - their imaginations."
Quotes
From music to movies to sculpture, lots of art requires technology and engineering to make it happen.

Engineering can also help people. Some of the most exciting medical techniques have been invented by biomedical engineers.

Enginners, ask, imagine, design, test and build.
Books by this author

About Lee Cosgrove
Barry was born and raised in the Scottish Highlands. He was just eight years old when he decided he wanted to become a writer and seventeen when he sold his first piece of work. His work includes the INVISIBLE FIENDS series and THE SHARK-HEADED BEAR THING. He also writes for TV. Barry lives in Fort William with his partner and their two children. Lee is an i
More about Lee Cosgrove
Books by this illustrator

OTHER BOOKS IN THIS SERIES
Ratings
(13 Reviews)

(0 Reviews)

(1 Reviews)

(0 Reviews)

(0 Reviews)